Whatever the form of advertising may be if there exists a maddening clutter that plummets the efficiency of your ad message.
This calls for a new and innovative medium of advertising in Delhi NCR that can draw the audiences' attention and distinguish your ad from those already existing. Bus wraps are the answer to it. In this, ad messages wrap the Buses (using vinyl/eco-solvent sheets), making them look like moving billboards.
Adverlabs can be contacted for any requirement of Bus Advertising/ Bus Branding/ Bus Wrapping/ Transit Advertising, especially in the Delhi NCR region & also around India. We provide all buses i.e. DTC Buses, Metro Feeder Buses and Private Operator Buses.
As we provide your advertisement on buses with all due permissions from respective concerned authorities & also taking into account the latest advertisement policies. Making your advertisement unobjectionable & unbeatable.
Bus Advertising- Bus Branding- Bus Wrapping
Size: 180 to 220 Sq Ft
Ambience Lit
Site Code: DRGA08N0001
Bus Warp faces traffic coming from & going to each and every part of Delhi NCR. You just ask for the areas and we shall arrange the buses.
We cover them all,
In case you have requirements specific to some group i.e. school-going children, salaried officers, airport staff, specific area staff etc. We can arrange buses for advertisement according to your needs because we always help you to beat the competition off your socks.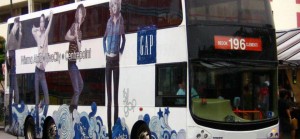 View Bus Advertising- Bus Branding- Bus Wrapping in a larger map